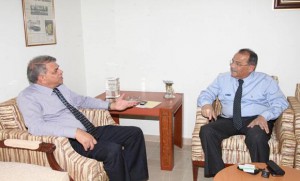 KHALIL HANWARE | ARAB NEWS STAFF
Monday 1 October 2012
Last Update 5 October 2012 9:39 pm
Saudi Arabia is on the way to maintain its position as the leading projects market in the region, with more than $ 58 billion worth of contracts already awarded in 2011, according to Mohamed H. Zakaria, CEO and general manager of Saudi Steel Profile Company. "Obviously, the current boom for project development continues to be a combination of high oil prices, demographic and economic growth, and a political commitment to invest in domestic infrastructure," Zakaria told Khalil Hanware of Arab News in an exclusive interview. "Demand for steel continues to grow. Though a number of products that used to be made only of steel has been switched to aluminum and plastics, the demand for steel is continuously rising, from a mere 28 million tons annual consumption in the year 1800 to 1.60 billion tons today and continues to grow."
Excerpts:
Saudi Steel Profile Company has 5 plants in 4 countries. What are your activities in the Kingdom?
Saudi Steel Profile Company had 5 manufacturing sites in 4 countries (Saudi Arabia, Kuwait, Sudan and Yemen). In February 2007, the company completed the sale of its wholly owned subsidiaries in Kuwait and Sudan to another group retaining the three manufacturing facilities in Saudi Arabia and Yemen. A fourth manufacturing facility (SSP2) was built in Jeddah Industrial City, Phase V in 2008 and fifth one is under construction and will be completed by 2013. Saudi Steel is an ISO 9001:2008 & former API Spec Q1 and API Spec 5L (American Petroleum Institute) and accredited manufacturer of various steel products such as steel pipes, tubes, sheets, corrugated sheets, studs & runners and expanded metal etc. products, supplies to customers throughout the region.
Are you planning to open new steel complexes in Saudi Arabia?
In addition to increasing our existing plant capacity from 389,000 tons in 2007 to 789,000 tons in 2012 at SSP1 plant by adding 4 more tube mills, 1 slitting line and several C-channel and expanded metal manufacturing machines and building second plant (SSP2) in 2008 to accommodate the expansion, a third manufacturing facility (SSP3) is under construction in Modon's new industrial area in Khomra (South of Jeddah) and will be completed by 2013, simply to cope-up with the demand from the local and regional markets. Sky is the limit to fulfill the demand of steel. Though a number of products that used to be made only of steel has been switched to aluminum and plastics, the demand for steel is continuously rising — from a mere 28 million tons annual consumption in the year 1800 to 1.60 billion tons today, and continues to grow. Imagine the situation if we had not found steel substitutes like aluminum and plastics, etc., steel reserves would have exhausted a long time ago. Automobile, packaging and white-goods industry is fast switching to aluminum and plastics as both have vast reserves, enough for centuries to come. Saudi Steel had plans in 1999 to manufacture steel billets and the management then purchased a used 450,000-ton capacity (billets) Voest Alpine melt-shop/furnace in 1999 from the United States. Scrap was to be used to produce billets, but SSP failed to commission the melt shop due to their inability to secure power supply (50 mw) from SEC. The melt-shop was sold in 2008 to another Saudi company. Somewhere in the back of my mind I have plans to produce billets as soon as we are able to secure adequate power supply from SEC. If a 500,000 tons capacity furnace is installed, it will help us double or triple our sales within a year.
What is your turnover and what are the product segments the company operates through?
The company operates through its product segments that include steel pipes and tubes, steel sheets and plates, corrugated sheets, C-channels and studs & runners, expanded metal and structural steel sections/profiles. The company also imports high gauge wider sheets and plates and structural steel sections like angles, I beams, H beams, UPN & UPE channels, etc. (Saudi Aramco approved). All the products are sold to four customer segments.
The Kingdom's economy is stable and moving steadily and it is witnessing an ongoing construction boom. Do you expect a big demand for steel products in the Kingdom?
Saudi Arabia enjoys special blessings from Allah Almighty. During my 38 years of active stay in the Kingdom, I do not remember witnessing any financial crash in the Kingdom that regularly happens in the developed countries and even in oil-rich Gulf countries. We did not experience any bank failures, or a sudden currency devaluation or a default from public sector, and I will honestly give the credit to the country's leadership (under Custodian of the Two Holy Mosques King Abdullah) first and to SAMA (Saudi Arabian Monetary Agency) for steering this country so smoothly through the crises that occur every 5 years, sometimes globally, sometimes regionally. Obliviously, the current boom for project development continues to be a combination of high oil prices, demographic and economic growth, and a political commitment to invest in domestic infrastructure. The SR 250 billion plan to build 500,000 houses for Saudi nationals announced by King Abdullah in March 2011 is the best example of the fact that sky is the limit when it comes to providing basic necessities to the Saudi nationals. We also anticipate a massive government spending on education and health care. More than $ 300 billion worth of major projects were to be awarded in 2012. We are confident that the current oil prices in the range of $ 100-125 a barrel and a lengthy pipeline of projects, combined with the market drivers, would ensure a better 2013 and beyond. With other GCC countries also on a spending spree, especially Abu Dhabi, Kuwait and Qatar, the Saudi manufacturing sector will find good markets for their products in these countries. Saudi Arabia is likely to maintain its position as the leading projects market in the region, with more than $ 58 billion worth of contracts already awarded in 2011. Saudi Steel is successfully on an expansion/growth plan since early 2007 that has raised the production capacity from 389,000 tons in 2007 to 789,000 tons in 2012 and the annual production from 50,000 tons to 173,000 tons in 2010 to 180,000 tons in 2012. Our outlook for 2013 is for a recovery in the market, with total contract awards rising to $ 150 billion on the back primarily of increased spending in Saudi Arabia, Qatar and Kuwait as they continue with their investment plans (subject to oil prices remaining in the $ 100 range. Next year may also be the time where the petrochemicals sector has a revival thanks to new projects in Saudi Arabia and Qatar.
Is Saudi Steel technologically sound, or is it in collaboration with any foreign company? Have you acquired any production know-how from overseas?
Saudi Steel is a 'tube mill' or a steel pipe and products manufacturer, which is a capital and labor-intensive industry. The production process is capital intensive and requires large amounts of capital for the process machinery to manufacture steel products. Other industries known as capital intensive are oil refineries, steel mills and airlines. The steel pipe/tube mills process is also labor intensive. In the ERW pipe production process, there is no new known technology but we are trying to catch on maximization of automation of bundling of pipes, etc. If succeeded, we will reduce 40 percent of our workforce from tube/pipe mill production lines.
How does the Saudi Steel monitor quality at its various plants?
Saudi Steel is an ISO 9001:2008 & former API Spec Q1 and API Spec 5L (American Petroleum Institute) manufacturer. Saudi Steel Profile Company's Quality Policy is the basis for the long-term profitability and growth of SSP. In the industries we serve, we strive to be every customer's first choice quality supplier. Our organization is focused on our customers. We are committed to satisfying the needs and expectations of our customers and other interested parties, including their economic, social and environmental concerns. We are committed to implementing continual improvements to every SSP process, product, service and quality management system by providing employees education and training to optimize performance in production, delivery of products and services. We obligate ourselves to maintain a quality management system in accordance with ISO 9001:2008 & former API Spec Q1 and API Spec 5L. (American Petroleum Institute).
You assumed charge of Saudi Steel in 2007 when the company was under a huge debt burden. How did you manage to turnaround the company in such a short time?
I took over Saudi Steel's management in early 2007 when the company was reeling under a huge debt. Our parent company (ASB Group) pumped in more than SR 250 million. A lot of that investment was used to build steel plants in Sudan, Yemen and Kuwait. These investments neither generated any 'return on investment' nor 'return of investment itself.' The entire investment went up in smoke. One of our Yemen (steel) plant was recently taken over by the rebels and has now been released by the Yemen army. In 2007, when I took over Saudi Steel, there were at least 5 or 6 strong and well-established steel companies in Jeddah alone and I did not see much potential for Saudi Steel to enter the market and compete with other steel companies. After taking over the management, the very second day, I visited our bankers and assured them that our top priority is to pay the entire loan/debt. The banks were kind and lenient and accepted our loan rescheduling plan that would have rid Saudi Steel of all bank loans/debts by year 2009, and we successfully reached that target, and Saudi Steel was a debt-free company by 2009 and we continue to remain so. I first checked the production capacities of the machines and then set the production targets and offered incentives to the production staff.
How do you compete with other steel firms in the Kingdom?
We brought down our cost base. The manufacturing cost per ton was SR 450 per ton that is brought down to SR 85 per ton today. The target is to bring it to SR 60 per ton. In addition to our own manufactured products, we import a lot of other high-value steel products like sections and plates from Germany, Spain, Japan and Korea, etc. (all Saudi Aramco approved). We have installed four more tube mills taking the total to 8 tube mills. Expanded metal and C-channel capacity has been doubled with installation of new machines. The product range (type & size) has been increased 3 or 4 folds, offering customers a full range of steel products under one roof, locally manufactured by Saudi Steel and imported. We have also installed additional heavy overhead cranes to handle heavy coils. The storage area has been increased three-fold to accommodate increased production volumes.
What is Saudi Steel's market share in the growing steel demand?
It is a difficult question but we conservatively estimate that our market share as a manufacturer (name plate capacity) in this segment of business is 20 percent while in actual terms it is 10-12 percent.
What is your progress of Saudization? Are Saudi women working in any capacity in the company?
Saudi Steel achieved its Saudization in 2008 but it was not properly documented at the labor office and GOSI (General Organization for Social Insurance) until 2010. Despite meeting the official target of 15 percent Saudization, the management continued its drive in hiring more Saudis reaching 30 percent Saudization — double than the official requirement that includes 11 female employees. Saudi Steel also set-up a technical training school and computer learning school to train and educate Saudis who lack skills and are interested in learning and educating themselves to meet the job market requirements. Our target (we call it challenge) is to have 50 percent Saudization by 2013-2014.